Grand Designs
No stranger to 'treading the boards', a former Eastenders actress says that her favourite part of an extraordinary new Grand Designs project in London is the oak wooden flooring installed in part of her family's new home. The 3,700 sq ft new build project in Kentish Town is home to interior designer Deborah Sheridan-Taylor, who played the character Saskia in Eastenders, and entrepreneur Jonathan Broom.
The project featured in the series 13 of Channel 4's Grand Designs, and flooring supplier Source Wood Floors provided the "amazing" wooden flooring which the owners rate so highly, featured on their new website www.sourcewoodfloors.co.uk. Presented by Kevin McCloud, Grand Designs follows some of Britain's most ambitious self-building projects, where individuals attempt to design and build the home of their dreams.

This particular episode follows Deborah and Jonathan's turbulent journey as they attempt to create a tranquil oasis in urban London. Unnoticeable from the street, the house has no outfacing first floor windows, while the ground floor is made up almost entirely of glass which opens up to embrace the surrounding environment. A house of contradiction, it brings the outside inside, yet seeks solace at the same time.
The house also boasts a vast concealed basement which is the size of two double decker buses, and double the size of the other two floors. Complete with swimming pool, gymnasium, sauna and a separate self-contained flat, this property is one of wonder and indulgence.

The engineered wooden floor is an oiled and brushed oak named 'Eiger Phoenix PH102 Oak Rustic Brushed & Grey Oiled'. This is one of the highest quality engineered floors offered by Source Wood Floors. The rustic grade floor exudes character and charm with natural markings, colour variations, mineral streaks, growth rings and a mix of closed and open knots.

The floor was chosen to compliment the polished concrete flooring on other levels of the property, and to allow the family to walk barefoot in the bedrooms. Peter Lazar, Managing Director of Source Wood Floors, said: "We are all big fans of Grand Designs and everyone was delighted when Jonathan and Deborah chose our floor for their project. It is manufactured by one of our favourite wood flooring suppliers: V4 Wood Flooring.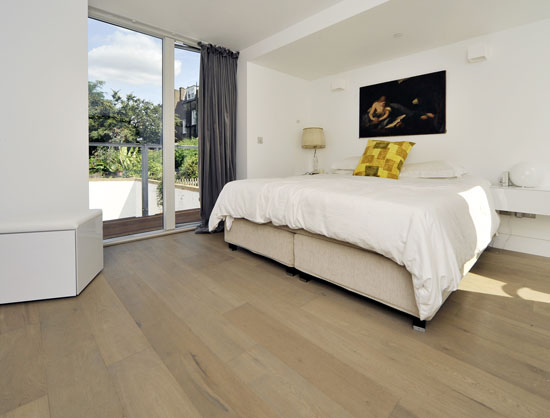 "There are many elements that come together to make this a beautiful and sustainable house, one of which is our wooden floor. "From start to finish, Deborah, Jonathan and the team at Grand Designs have been an absolute pleasure to work with." Jonathan Broom said: "Grand Designs is very much about the human journey and as with most episodes this was no walk in the park.

"However, my wife and I are over the moon with how the house turned out, and that's thanks, in no small part, to the team at Source Wood Floors who supported us throughout the project and supplied an amazing wooden floor. "After spending a couple of days in our new property, my wife woke one morning and said the floors were her favourite part of the whole house. I couldn't agree more; they're wonderful.

"Sustainable and environmentally friendly, the floors fitted in with our design ethos. We look forward to treading these boards for many years to come.
Why S urce?
Why S urce?
Free Delivery
On flooring orders over £300 and accessory orders over £50
Get inspired
With some of our more exotic products!
Take a look