Difference Between Bona Mega and Bona Traffic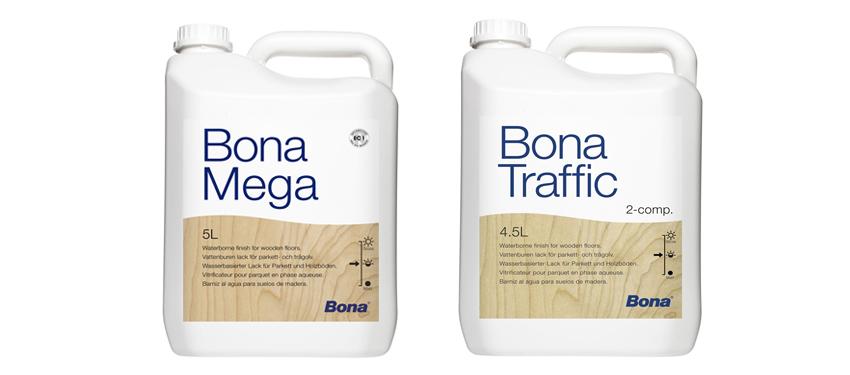 Lacquer is a type of wood finish that can give varying types of shine to your wood. Having your wooden floors covered by lacquer can make them more durable against the wear and tear of everyday use. If you're looking for certain appearances or are very specific when it comes to durability, it pays off to know more about lacquer products.

One popular brand when it comes to lacquer is the Bona brand. These can effectively seal your wooden floors against different agents. However, there are two competing types of Bona lacquer: the Bona Mega and the Bona Traffic.
Application techniques of Bona products
Bona Mega and Bona Traffic will surely be used by coating the wood with more than one layer. The main difference with their application is the number of components and their usable time. The Bona Traffic is made up of two components that need to be mixed together. These should then be applied as quickly as possible because the product will not be applicable after a few hours. The Bona Mega on the other hand is a single component that can be applied to the floor as is.
Typically, Bona Traffic is more suited for floor areas that are passed by a lot of foot traffic. It can survive the continuous strain of people. Bona Mega is usually utilised more in domestic areas or rooms that will be used rarely. These rooms can be a guest room or maybe a dining room where people don't normally step around continuously.
Bona Mega is quite cheaper when compared to Bona Traffic. It will also only use one component so the material it uses is typically less than Bona Traffic. Unprofessional usage of Bona Traffic can also lead to unnecessary expenses since misuse may cause large batches of Bona Traffic to be left unused.
Note that when choosing between Bona Mega and Bona Traffic, you should first identify when plan to use them. A domestic area with less foot traffic would only need the Bona Mega. However, the entrance way of a busy home might need Bona Traffic. Nevertheless, both products are well created lacquers. They will seal the wood well and if placed and layered correctly will surely protect the wooden floors. Both of these products are available here at Source Wood floors at affordable prices. Happy shopping!
Why S urce?
Why S urce?
Free Delivery
On flooring orders over £300 and accessory orders over £50
Get inspired
With some of our more exotic products!
Take a look