Fitting a door threshold on different height floors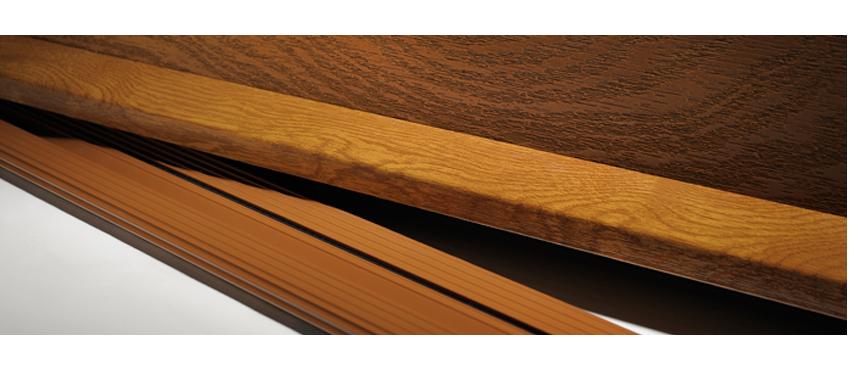 Nothing can be more annoying than an awkward transition from the flooring of one room to the other. Most homeowners with meticulous taste complain about the transition from bathroom tile floors to oak flooring or even to carpeted flooring. Aside from this, the obsessive compulsive in everyone is irked at that pesky lip under the door. Fortunately, that's what internal door thresholds are for!

Door thresholds
An internal door threshold is simply a connecting piece of material that evens out the transition from one flooring to another. An internal door threshold is also installed in doorways to make transitions from room to room more wheelchair-friendly, for this however, the bevelled door threshold becomes more viable.
There are plenty of choices for door thresholds aside from the most commonly used oak door threshold which has been said to go well with most materials used for door jambs. But for a more extensive collection of door thresholds, Source Wood Floors UK is an excellent source for all home essentials from wooden flooring to door thresholds, installing tools, and flooring accessories. Along with our broad collection of products comes an even broader variety of oak flooring and oak door thresholds with finishes that will suit even the most discriminating tastes.
How to install door thresholds for different levels of flooring

1. Measure. The first thing you have to do is measure. Measure the distance from the bottom of your door to the floor. This measurement will be the maximum height of your threshold; otherwise, you will not be able to close your door.
2. Find a material to work with. The internal door threshold is placed inside the door jamb but that doesn't necessarily mean that the door threshold has to be the same exact material as your door jamb. In fact, in most cases, it would look best if you find a material that complements the flooring more than it matches the door jamb. For an easier take on finding the best flooring and door threshold to suit your taste, find both in complementing shades. Choose from the extensive collection of rich oak and timeless wooden material in a posh finish at Source Wood Floors UK.
3. Fit. Once you've found the material for your internal door threshold, fit the threshold inside the door jamb. Make the necessary adjustment like cut either side of the door threshold until it fits snugly inside the door jamb.
Once you've done that, fit the threshold between the flooring. Chances are, the higher leveled flooring will be at approximately the same level as the door threshold. If it isn't, use a pencil to line mark the top of the flooring on the door threshold.
4. Adjust. You can do this yourself or, for safety purposes, you can take the threshold to your nearest woodworker or hardware store and have them make the necessary adjustments for you. Be sure that your mark on the threshold is followed.
5. Double check the dimensions. Once you've fitted it between the floors, the door threshold has to be flush on the same level of the higher floor, if you're using a beveled door threshold, it should look like a miniature ramp. Once the fit works, sand the adjusted parts and polish or paint it as pleased.
It actually sounds more complicated than it really is! Especially when you've got Source Wood Floors UK to give you everything you'll need to install a new door threshold. Check out what's in store for you here at our online store.
Why S urce?
Why S urce?
Pick up a bargain
Visit our offers page for great products at fantastic prices
View Offers
Get inspired
With some of our more exotic products!
Take a look