How To Lay Solid Wood Flooring Over Concrete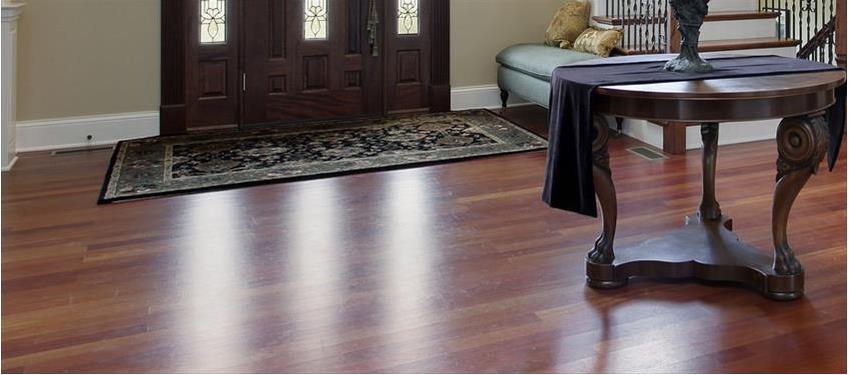 Both solid wood flooring and engineered wood flooring can be laid onto a concrete subfloor. The installation process is slightly different for each, but by following the correct steps it can be done without any problems. Solid wood flooring is made from one single piece of wood, and can be highly sensitive to changes in temperature and humidity as this can cause the wood to expand and contract.

How To Lay Solid Wood Flooring Over A Concrete Subfloor
The first consideration you will need to make is how you are going to attach your planks to the floor.

Floating - A floating floor doesn't require any glue or nails, although you may use glue between the tongue and the groove to keep the planks together. A floating floor is usually laid over a sub-floor or over an existing floor after laying the right underlay.
Glued – Gluing your floor is often the most popular installation method as it is usually the most simple. To glue a wooden floor, a full coverage of flexible wood adhesive must be applied to the sub-floor and the boards. A glued floor feels as solid as a nailed floor underfoot, and can handle the contractions of the wood thanks to the flexibility of the glue.
Nailed – Until the invention of strong adhesives, nailing was the common way to secure solid wood flooring. Using nails means installing them carefully so they are hidden from view when the floor is finished by putting them through the tongue of the planks. Those nails are then covered when you insert the next plank as the groove locks with the tongue.
Now you must ensure that the subfloor you are laying onto is prepared properly for installation. This most importantly means the moisture content of the wood, which should be no more than around 7-8%. You must also check that the floor is clean and clear from debris and is completely flat otherwise you may have issues with the floor after installation. If you find that the moisture content of your concrete sub floor is too high then you might want to invest in a damp proof membrane. This will help keep the floor stable and prevent any warping or shrinking of the wood every time there is a change in temperature. For any type of solid wood flooring installation the preparation is equally as important as laying the planks themselves, and can make a difference to the durability and life of your floor. Whichever installation method you are using, make sure you tape each plank together with masking tape after you have laid them so they do not set out of place and avoiding any unwanted gaps.

Engineered & Solid Wood Flooring From Source Wood
At Source Wood we provide a wide selection of both engineered and solid wood flooring, with many different styles and colours perfect for any room. We also stock everything required for wood flooring installation and finishing including glues, adhesives and varnishes. We have the best prices you will find online, plus we provide next day delivery on everything we sell. If you would like advice about any of our wood flooring options please contact one of our friendly team who will be happy to explain everything to you. Email enquiries@sourcewoodfloors.co.uk or call 08456 021 781.
Why S urce?
Why S urce?
Free Delivery
On flooring orders over £300 and accessory orders over £50
Get inspired
With some of our more exotic products!
Take a look