Laying a solid wood floor over concrete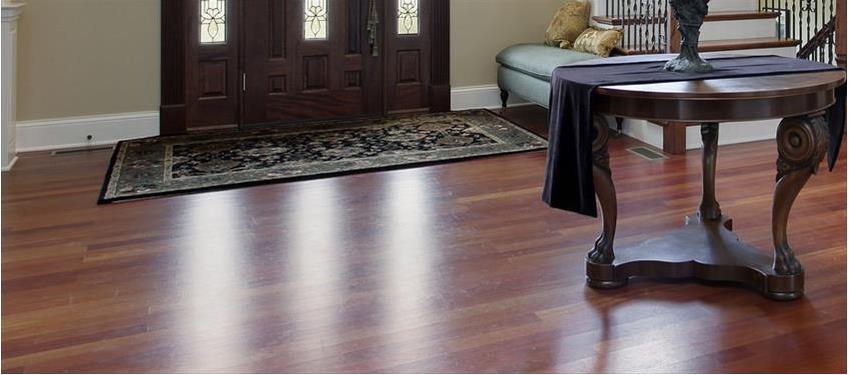 Both solid wood flooring and engineered wood flooring can be laid onto a concrete subfloor. The installation process is slightly different for each, but by following the correct steps it can be done without any problems. Solid wood flooring is made from one single piece of wood, and can be highly sensitive to changes in temperature and humidity as this can cause the wood to expand and contract.

How To Lay Solid Wood Flooring Over A Concrete Subfloor
The first consideration you will need to make is how you are going to attach your planks to the floor.

Floating - It is not advised to 'float' a solid wood floor with underlay, so you should not use this method for solid wood floors.


Glued – Gluing your floor is often the most popular installation method as it is usually the most simple. To glue a wooden floor, a full coverage of flexible wood adhesive must be applied to the sub-floor and the boards. We recommend Sikabond 54 wood flooring adhesive for this purpose. A glued floor feels as solid as a nailed floor underfoot, and can handle the contractions of the wood thanks to the flexibility of the glue.
Nailed – Until the invention of strong adhesives, nailing was the common way to secure solid wood flooring. Using nails means installing them carefully so they are hidden from view when the floor is finished by putting them through the tongue of the planks. Those nails are then covered when you insert the next plank as the groove locks with the tongue.
You must ensure that the subfloor you are laying onto is prepared properly for installation.
If your concrete subfloor has been recently laid, you may well face a potential problem when it comes to moisture. Ideally you should aim for a reading of 35-40% air humidity and/or 2-3% moisture content in the concrete.
On average, a concrete slab takes a month per inch to dry out, and in many cases the ideal moisture and humidity percentages are very difficult to obtain.
In this instance a surface damp proof membrane can be applied to help address the issue. We recommend either Sika Primer MB, a two-component solvent free, low viscosity epoxy primer; or Sikabond Rapid DPM, a one-component, low viscosity epoxy primer which dries in approximately 45mins.
You must also check that the floor is clean and clear from debris and is completely flat - otherwise you may have issues with the floor after installation.
You should never lay a new floor over a subfloor that has issues that have not been resolved.

Why S urce?
Why S urce?
Pick up a bargain
Visit our offers page for great products at fantastic prices
View Offers
Get inspired
With some of our more exotic products!
Take a look